The creators of a surfing program credited with saving veterans' lives are hoping to win federal government support to expand the program across Australia.
Key points:
The Veteran Surf Project (VSP) in Gerroa helps veterans with PTSD through surf therapy and companionship
More than 200 veterans have completed the program, and many credit it with saving their lives
VSP hopes to receive federal funding to expand the program across Australia.
The Veteran Surf Project, based in Gerroa on the NSW south coast, has supported over 200 people with post-traumatic stress disorder (PTSD) and other mental health issues.
Veteran Greg "Willo" Williams joined the program about two years ago and says he has found a cure.
"There's the euphoria of riding the waves, and all these people are screaming and clapping and carrying on. It feels so good," he said.
Mr Williams served in the Australian Defense Force (ADF) for seven years, but it was his six-month tour of Iraq that exposed him to horrific events and left him scarred.
A veteran finds his "cure"
Mr Williams tried to find help from medical services and community groups for several years, but nothing worked and his mental health deteriorated.
"At some point in 2013 I attempted to take my own life," Mr Williams said.
"I couldn't deal with the noises, the smells, the things that were in my head, the visions that I couldn't get rid of."
About two years ago, a tradesman visiting his home for maintenance noticed Mr Williams' surfboard and army backpack and suggested he join a special surfing program for veterans in Gerroa.
In July, he reached his 110th surf with the group.
"It gave me a purpose in life, it gave me a kick, it saved my life," Mr Williams said.
"I have to take my surf medicine every other day."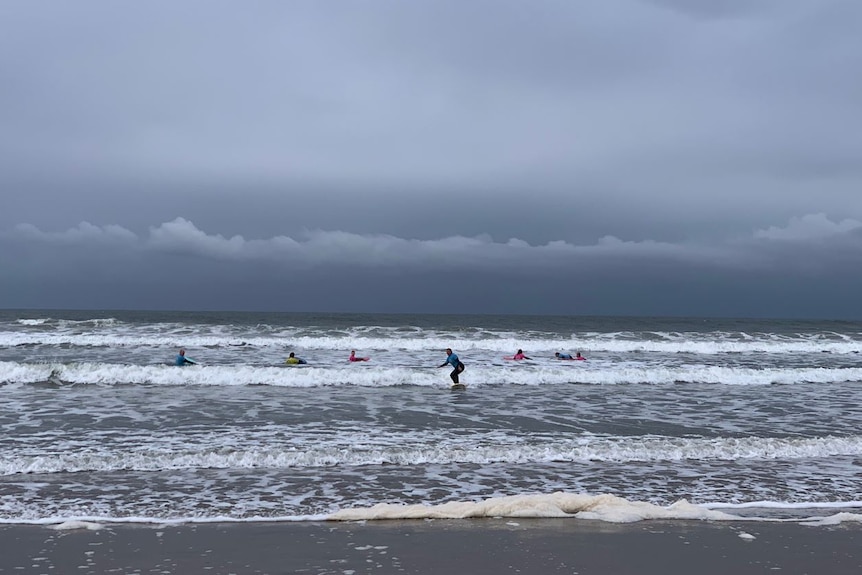 Launched by a big wave surfer
The program is the brainchild of former professional and big-wave surfer Rusty Moran, who battled his own generational trauma caused by his father's post-WWII PTSD.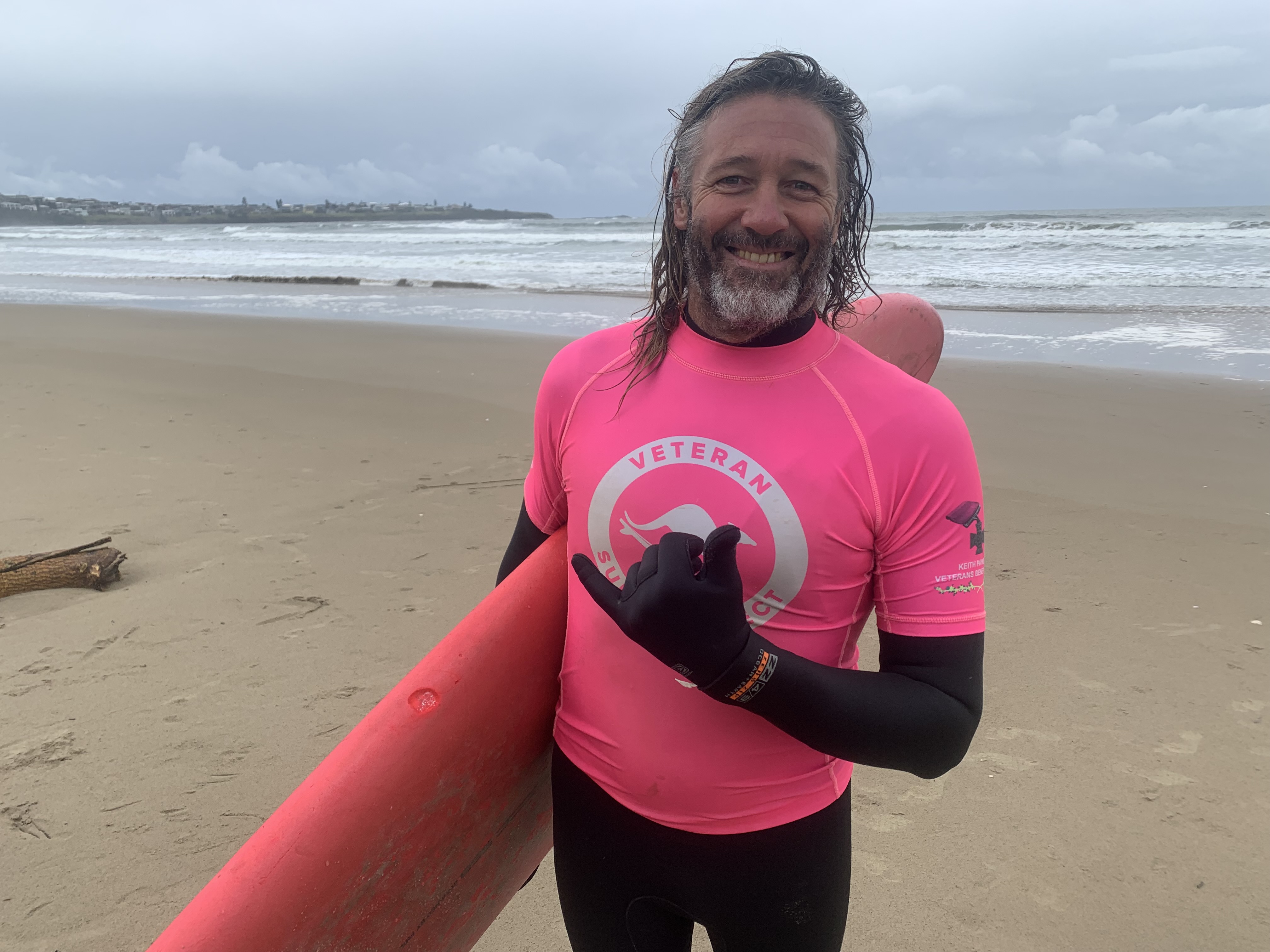 "I was teaching a bunch of GPs [general practitioners] and they were sending Navy veterans back to my surf school, and one of them planted the idea that we should prescribe surfing as medicine rather than medicine," Mr Moran said.
"And I was like, 'Okay. This looks great.'"
Veterans are referred to the program by word of mouth, general practitioners and hospitals.
It starts with a 10-week learn-to-surf program that includes cognitive behavioral therapy, with participants encouraged to continue surfing with the group.
'Surfing commands respect'
The program offers camaraderie, athleticism, risk and an adrenaline rush, which Moran says aligns with aspects of service in the ADF.
"Surfing commands respect," he said.
"It will knock you down if you're not careful, so you have to concentrate fully.
"There is no other space to think about the past. You have to be in this present moment. It's meditative.
"Then there's that thrill of tackling one of the waves, staying on the board, and staying all the way to shore. It's just 10 seconds of pure bliss."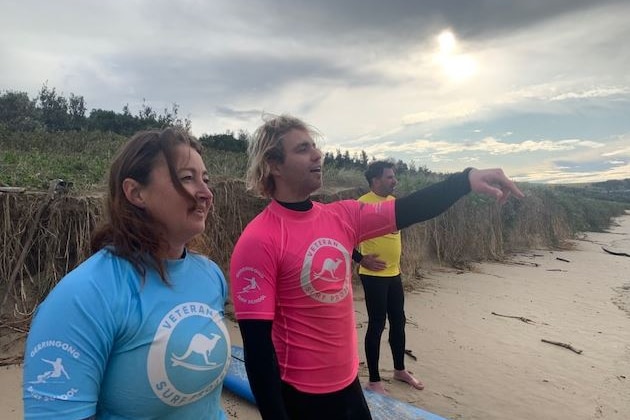 Mr. Moran said the program had produced overall results.
"We had a Vietnam veteran who hadn't slept more than three hours a night for the past 48 years," he said.
"Then when he started surfing, he almost doubled his sleep. It was unreal.
"We had police detectives, some trying to get rid of drugs and alcohol.
"For some, it's about maintaining their temper and outbursts of aggression.
"A lady had her date of suicide penciled in her diary and her friends let me know that absolutely not only saved her but also saved her children and her husband because they got their mother back and their wife."
It is now the subject of Mr Moran's master's degree at Western Sydney University.
He hopes to have scientific evidence of success to share with the Department of Veterans Affairs within the next six months.
The project has also recently received funding from the NSW government to include first responders.
To "rebuild and re-identify"
Veteran Rach Ranton, who served in the military for 11 years with tours in East Timor and Afghanistan, came from Queensland to take part in the programme.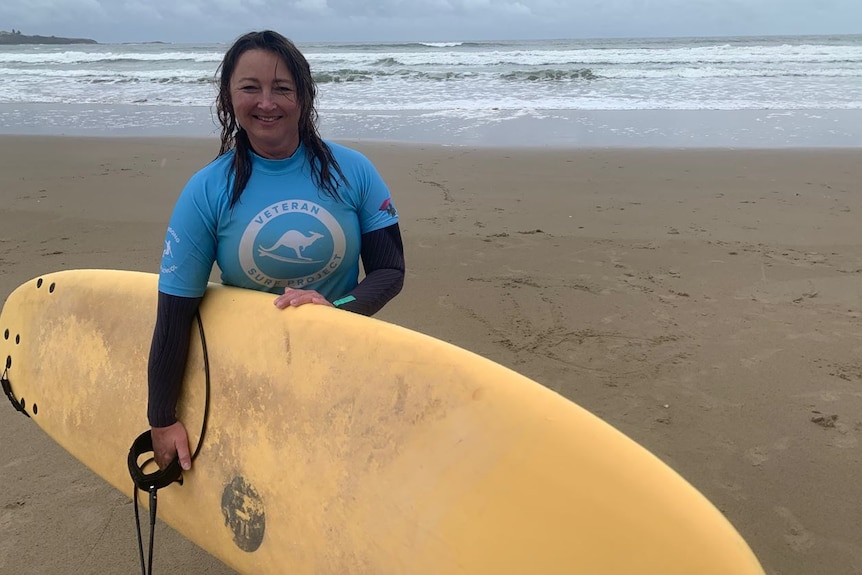 "It's a really positive program. It helps you rebuild and re-identify who you want to be in the future," she said.
"For me, that's the ultimate mindfulness. You're in every moment to be there and focused, so yeah, that's why I love surfing."
Mr Williams said the team hoped the project could be rolled out across the country.
"I truly believe that with programs like this, and this program in particular, we can reduce veteran suicide to next to nothing."